HOW DO CAR LOANS WORK? HERE'S WHAT YOU NEED TO KNOW
July 4, 2021
/
/
Comments Off

on HOW DO CAR LOANS WORK? HERE'S WHAT YOU NEED TO KNOW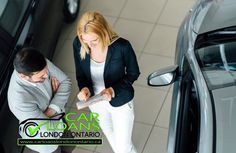 Purchasing a new or used car is certainly one of the biggest purchases you can make. With all the different aspects that come with a car loan, figuring out how to pay for your vehicle can certainly be daunting.
The average price of a new car is somewhere between $30,000 and $40,000, and most of us will have to take out a car loan to afford this. Before you decide on your awesome new set of wheels, it's a good idea to get into the nitty-gritty and do some homework on auto financing. Understanding the conditions of your loan is vital in making sure you know exactly what you're getting into. You don't want to be surprised by hidden fees or high monthly payments.
OKAY, SO WHAT IS A CAR LOAN?
A car loan is an agreement between you and your lender that says they will give you money to buy a car and in return, you will pay that amount back over time. The down payment, interest, and loan terms will affect your payment. Many people spend a lot of time looking at what model of the car they want to buy, but you need to spend an equal amount of time researching auto financing so you don't end up in a bad position.
If you don't have cash on hand to buy a new car, a loan will help you buy it whether the vehicle is new or used. When you get an auto loan you borrow the money from a lender and buy the car. You agree to pay back a portion of the total overtime, plus any additional fees and interest.
HOW DO CAR LOANS WORK?
A car loan is paid back to the lender in monthly installments that are called loan payments. Your monthly minimum is dependent on the amount of the loan, the agreed-upon loan terms, and the total interest you have to pay over the course of your loan. Loan contracts are broken down in terms of principal and interest on the loan, along with any optional add-ins.
Longer-term loans can make your monthly payment lower, but keep in mind that with a longer-term loan you will end up paying more over time in interest. In some cases, you could even end up owing much more than your principal.
You can use your car loan to purchase a new or used vehicle, and you can also apply for a loan to buy out a lease or refinance an existing loan. You might find that new vehicle loans have lowered rates of overused car loans, and sometimes these come with special incentives for buyers.
WHAT IS AN INTEREST RATE?
Your interest rate is a percentage of principal charged by the money you've borrowed. This is how lenders make a profit from lending you the money. Your interest is calculated by credit score, credit history, down payment, loan terms, and type of vehicle. Knowing your interest is incredibly important and will affect how much you actually have to pay on your loan.
WHO ISSUES CAR LOANS?
When shopping around for auto loans it's a good idea to check with different financial institutions before settling on the auto dealer. You can check in with banks, credit unions, or other institutions while discussing it with the dealer.
There are two ways to borrow money for a car, generally speaking: direct lending and dealer financing.
Direct lenders include banks, credit unions, and other financial institutions such as online lenders. Borrowing money from one of these lending options can give you the opportunity to comparison shop for the best possible loan, and it might also give you the option to get preapproved for a specific loan before you shop. When you're ready to buy you will use this loan to pay for your car and reach the agreed-upon loan terms.
THE REQUIREMENTS FOR YOUR LOAN
The general approval process for your loan includes checking your credit scores, and might start with something called a "prequalification." This can result in a soft pull of your credit that won't affect your scores. If you become pre-approved and you move forward with the full application, the lender will do a hard pull of your credit, which will cause a dip in your scores. Even if you are pre-qualified, your loan terms might differ when you submit your full application.
Before you make the full jump into your auto loan it's a good idea to check your credit scores and monthly budget to make sure you can afford your monthly car payment. Don't borrow more than you can handle, and make sure your new payments are factored into your budget. If your credit isn't looking too good, you might need to consider researching lenders that work with low credit borrowers.
Saving up for your car is important, and placing a bigger down payment will affect your loan overall. You can buy your car with no down payment, but this is not recommended as the interest over time will be daunting. Don't forget to consider things such as interest, insurance, and add-on contracts like extended warranties. These will affect the total cost of your loan.
Make sure you know what you're getting into before you finalize your auto loan. Understanding the full terms will benefit you in the long run, and ensure there are no surprises down the road. You will want to make sure to maintain your vehicle for the entirety of the lease, both mechanically and financially. PartsAvatar is a great resource for this.
CONCLUSION
Buying a new or used car is a big decision and figuring out how to finance your vehicle can certainly be challenging. But in the end, it's worth the effort!
About the Author: 
Kathryn Fowler

Kathryn Fowler is the Marketing Manager at PartsAvatar. She's been passionate about cars since childhood. She loves examining different components of cars to understand their operation. Kathryn started writing blogs on automobile parts to share her love for cars and educate automobile enthusiasts worldwide.